ABOUT KAREN
Karen counts herself lucky to live and work in the beautiful seaside town of Skerries, Co. Dublin.
Mainly self-taught, she has a painted all her life, the catalyst being the gift of oil paints from her sister at an early age. In fact, she has an oil painting that she painted when she was twelve years old.
Following a painting workshop in Holland, plein air influenced her work, with inspiration around every corner of Skerries and beyond. The daily painting movement inspires her small still life paintings in oil of local scenery and kitchen still lives. Working mostly with a palette knife, her paintings are characterised by vigorous thick buttery slashes of colour, with highlights of heavy impasto paint.
She paints every day, either a small still life painted in her Studio/Gallery, situated in the magnificent courtyard of the 15th century restored watermill, or, weather permitting, a plein air study of either of the two magnificent beaches or harbour, right on her doorstep in Skerries.
She loves to pass on her knowledge and has been teaching art classes and one day workshops for over 20 years, and her online courses are now available for any budding artist unable to attend her courses.
As well as her personal work she has taken on various commissions including a large body of work for the Hotel Isaacs, in Dublin and Cork. Karen's paintings can also be seen in the Lyrath Hotel, Kilkenny, Sheraton Hotel in Athlone and Lismore House Hotel in Lismore, Co. Waterford. Private collectors include, Actor Brendan Gleeson, Designer Laney Keogh, Actor Aongus Og McAnally, Irish rugby Captain Niall Hogan & TV and radio presenter Matt Cooper.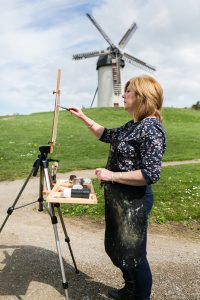 MARK – FRAMER, TRANSPORT MANAGER,
MAINTENANCE MANAGER (MY ROCK X)
MOLLY – THE GALLERY DOG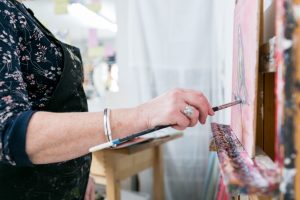 STUDIO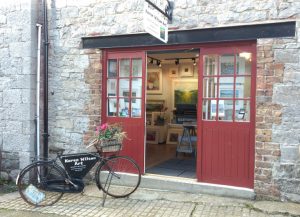 GALLERY
IRELAND
The Doorway Gallery, South Fredrick Street, Dublin 1
The Gallery Kinsale, Cork
The Whitethorn Gallery, Clifden, Co Galway.
Gallery 1608, Bushmills, Co Antrim
The Kildare Gallery, Carton House, Kildare.
UNITED KINGDOM
Tallantyre Gallery, Morpeth, Newcastle.England.
Moy Mackay Gallery, Peebles, Scotland
Art World Gallery, Falmouth
Morningside Gallery, Edinburgh, Scotland
Stirling Art, Stirling, Scotland
EA Studios, Broughty Ferry, Dundee, Scotland
EUROPE
Tallantyre Gallery, Morpeth,
Newcastle.England.
Moy Mackay Gallery, Peebles, Scotland
Art World Gallery, Falmouth
Morningside Gallery, Edinburgh, Scotland
Stirling Art, Stirling, Scotland
EA Studios, Broughty Ferry, Dundee, Scotland