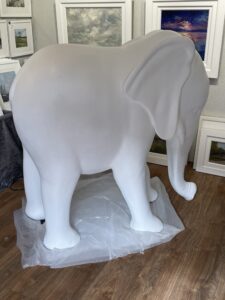 Elephant In The Room
The "Elephant In The Room"  is a national project to get everyone talking about the elephant in the room……mental health.   To try and start the conversation around mental health issues, from the school yard to the board room.
I was delighted to be one of the artists selected to paint one of the first 16 elephants to land in Ireland.It was a bit of a shock when it arrived.    I didn't realise it would be so BIG!!
I THINK I WILL NEED A BIGGER BRUSH.
For more information on how support this amazing project please go to their website https://www.elephantintheroom.ie/
#elephantintheroom #menthalhealth