Description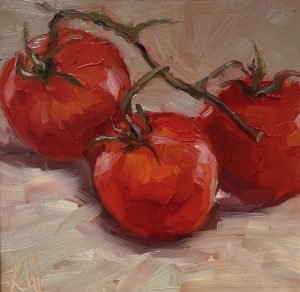 A daily painting titled "Threes a Crowd", created by Karen Wilson
15cm x 20cm, oil on board (6″ x 6″) unframed
The auction will run for seven days, with a starting price of €75 with increments of €5.
Please note paintings in the auction are unframed but we have a framing option at an additional reduced price.
Proxy bidding
You can proxy bid too by entering your maximum bid.
Proxy Bidding is a concept in which the system automatically bids on your behalf up to the maximum bid amount that you have chosen.   This is simply to make the online auction process much easier and less time-consuming.
A great way to start your original painting collection at a reasonable price.
Framing option available at additional price of €25
If you would like to follow the auction for "Three's a Crowd", you will need to create an account. It is free, very simple and only takes a minute, just click on the bid button and a pop-up will appear where you can register or login.