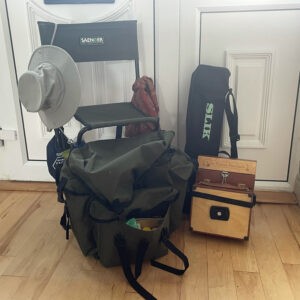 Always excited at the run up to the annual Dublin Plein Air Festival.  With lots of organising and packing.   I paint on primed MDF for the festival and have lots of boards ready for the marathon of painting during the seven days of the event.  I have the bags packed ready for the early morning start.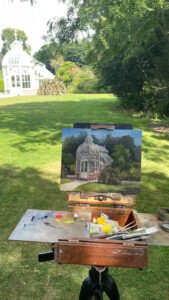 With weight being an issue when carrying all the equipment, everything is kept to a minimum when packing. So the idea is to bring as few paint tubes as possible!! My go to colours are, Cadmium yellow pale, cadmium lemon yellow, cadmium red light, alizarin crimson, ultramarine blue, phthalocyanine blue and titanium white. With these six colours and white I try to mix all my colours. Some extra tubes that I might bring along, if I can fit them, are viridian (green), yellow ochre, and quinacridone magenta just to cut down on mixing.
My painting box or pochade box is a lovely small handmade box by Alla Prima Pochade, with spaces for paints, brushes, canvases and a tripod attachment. If folds out with an attachment on the right (with holes for holding my brushes) for mixing paints, the lid over the paints acts as a second area for mixing also. It clips onto a regular camera tripod. It is very compact and light with everything stored in the one place so is perfect for plein air painting.
I always paint a little watercolour sketch or notan before I dive into the full painting.   This helps me decide on my composition and also work out where the darks and lights will be.   The little watercolour box in the photo above is ideal for fitting into your plein air kit anywhere as it is so dinky.   It is called from Art Tool Kit and is called the Demi palette.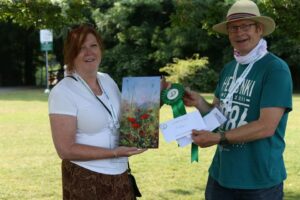 This year we were in Newbridge House, Balbriggan beach and harbour, Malahide Castle, The Botanic Gardens, Farmleigh House, Ardgillan Castle and Skerries.   And I was absolutely thrilled to win first prize in Ardgillan Castle with my painting of the fabulous wildflower meadow in front of the castle.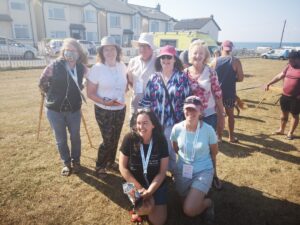 On our last day in Skerries we did a quick paint in aid of Cystic Fibrosis. The beach was crowded with people and this painting was from the Martello tower on Red Island overlooking the South Beach.
The icing on the cake was that some of my Masterclass Painting Course participants attended the event and it was great to meet up in person, after all our Zoom get togethers!
Looking forward to next year already.