Art in the Open 2019
Art in the Open in Wexford had been on my list for some time, so this year we (Louise, Michelle and myself) decided to give it a go.   It runs for 10 days but we booked in from Wednesday until Bank Holiday Monday.
Graiguenamanagh
Wednesday was Graiguenamanagh.   We didn't arrive until after lunch and painted this 10″x12″ on the river, capturing the swimmers diving.
Tintern Abbey
Thursday was Tintern Abbey, with two paintings 6″ x 6″ one of the Abbey and one of the mudflats, both painted from the bridge.
Ballymore Demesne
Friday we were at Ballymore Demesne.   A hidden gem and well worth a visit.   With an amazing art gallery dating back to the 18th century displaying sketchbooks and paintings by Artists in the family.
This was the first outing for my new Alla Prima Pochade Box.   A beautiful handmade wooden pochade, compact and light.

 Did plenty of walking around this inspirational venue so only painted one small 6″ x 6″ of a beautiful redbrick arch covered in honeysuckle?
Wexford Town
Saturday was Wexford Town for the quick paint for charity.   Everyone gets their canvas stamped and the bell is rung and everyone gets painting.   Two hours to paint the buzz along the streets of Wexford Town.   Really enjoyed this, it was great craic.
Delighted when the lovely Kate bought my painting off the easel.

 Exhibition – Greenacres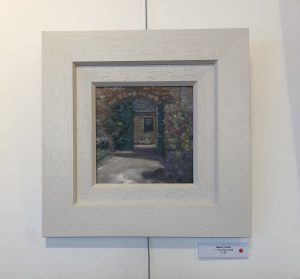 Sunday – Festival Exhibition.
Everyone who has taken part in the event can exhibit two framed paintings at this exhibition, with lots of prizes and awards to be won and plenty of sales.
Special thanks to Deirdre and John for the red sticker on my little painting of Ballymore Estate!
It makes taking part even more enjoyable.
Curracloe Beach

We had to wait until 6 p.m. to collect our paintings so made the most of the sunny bank holiday Monday and headed 20 minutes out of Wexford to Curracloe Beach with a few fellow plein air painters.
Great craic had by all.
What an enjoyable week painting in fabulous venues.  Met lovely fellow Artists and will definitely be back again next year.
Thanks, Art in the Open Organisers and Volunteers for making this such an amazing event.