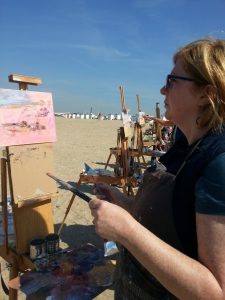 PLEIN AIR HOLIDAY IN HOLLAND
Deep in concentration on the beautiful sandy beach of Katwijk ann Zee
Last year I took a Masterclass in Holland with Dutch Painter Roos Schuring.  The plan was to study and paint rain clouds and stormy skies,  but as you can see there wasn't a cloud in the sky.
But no one was complaining!
Four days of fabulous sunshine, achieving two paintings a day.
The experience was so inspirational and will influence my paintings for years to come.